TV Studio
Live Broadcast and Media Production Studio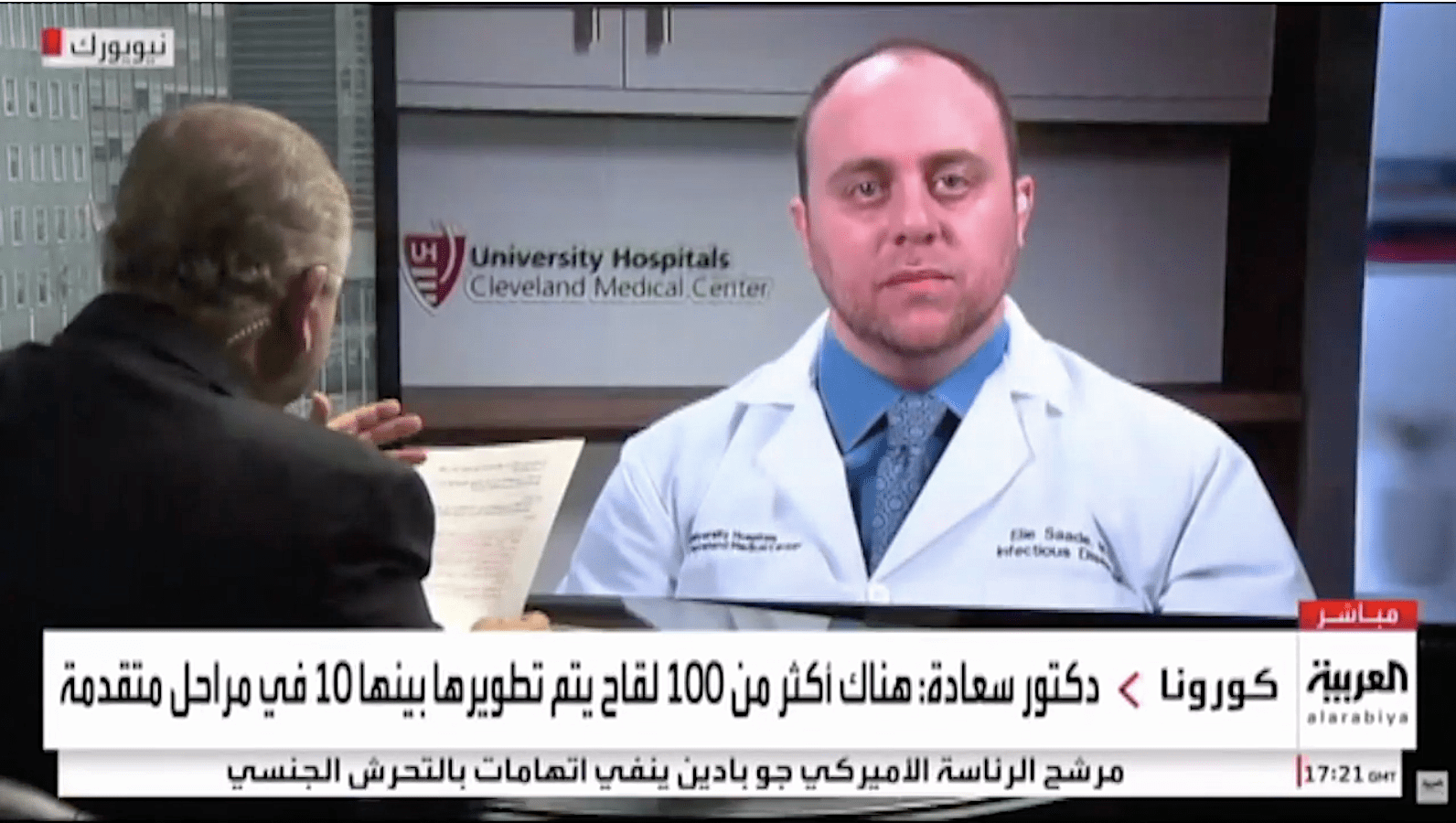 Elie Saade, M.D., live on the Al Arabiya network to 110 million viewers in the Middle East.
Our television and media production studio provides the opportunity for live and digitally recorded interviews with renowned medical experts for any media outlet in the world. Our physicians and specialists are available to comment on breaking news, research findings, and any medical or health care-related topic. Our healthcare experts can often be seen live on The Today Show, CNN Headline News, FOX, MSNBC, The Doctors TV Show, and more.
We are part of the LTN Global Network, a worldwide IP broadcast transmission service utilized by all major TV networks, many universities, and international corporations.
Our studio is supported by experienced, Emmy Award-winning broadcast professionals who understand the demands of the industry on both national and local scales and are committed to providing media outlets with the best possible service. We have a high level of expertise in content creation and logistical as well as technical production planning.
We have the capability to broadcast live from anywhere in our system, including our operating rooms and our cardiology catheterization labs in the UH Harrington Heart and Vascular Institute. We produce a good number of live cases transmitted worldwide throughout the year.
We have the ability to provide HD and UHD quality, MP4 downloadable video and can accommodate requests for other video wrappers (MOV, MXF, M4V, AVI, and more) as needed.
Our studio includes:
Broadcast HD cameras (news standard as well as full-frame cinematic)
Pro grade studio microphones
4k production switcher with effects
16-channel audio mixer
Two IFB and two PL lines
Direct-to-digital recording
Single camera 15" teleprompter
Customizable professional DMX lighting grid with dimmable 5600k fluorescent and LED lights
Post-production capabilities
Full HD broadcast conversion to webcam streaming via Zoom, StreamYard, and other streaming video platforms.
---
For more information or for media requests:
Kim Fatica, CBTE
Kim.Fatica@Uhhospitals.org