UH and Cleveland Browns Announce Long-term Extension of Official Health Care Partnership
February 06, 2023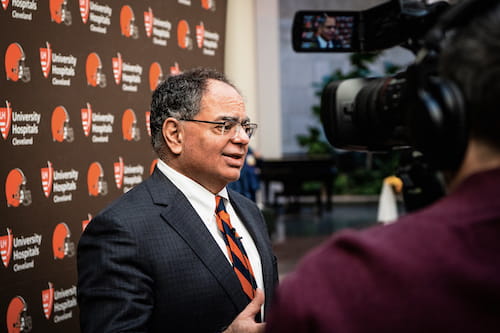 UH CEO Cliff Megerian, MD, talks to media after announcing the extension of the system's partnership with the Cleveland Browns.
CLEVELAND – Today at University Hospitals Cleveland Medical Center, the Cleveland Browns and University Hospitals (UH) announced an extension of their partnership for UH to serve as the Official Health Care Partner of the team.
Since 2014, UH has worked with the Browns to provide a comprehensive, innovative and scientific-based approach to caring for Browns players, staff members and their families while also emphasizing engagement in the Northeast Ohio community. UH has developed a transdisciplinary sports medicine team that addresses Browns players' medical, training and overall health care needs as a foundation for long-term health, a philosophy that also extends to patient services at UH's network of 21 hospitals (including five joint ventures) and more than 50 health centers.
In conjunction with the team focus, UH offers essential support for the Browns' commitment to assisting the development, safety and growth of youth and high school football throughout the region. Through camps, clinics and various initiatives, the organizations jointly promote healthy, social, emotional, intellectual and physical development of youth by enhancing opportunities for youth football participation and education, along with other sports.
"We are proud to extend our partnership with University Hospitals, a national leader in overall health care and sports medicine and a pioneer in research. Their network of highly skilled doctors, physicians and dedicated staff deliver exceptional results, making them a valuable asset to our community and team since our partnership started in 2014," said Haslam Sports Group Chief OperatingOfficer Dave Jenkins.
"Player health and safety is paramount in professional sports, and UH's medical experts, led by Dr. [James] Voos, have offered tremendous assistance to our athletic training staff. As importantly, UH extends that level of high-quality care to all of our staff members, Browns fans and Northeast Ohio, as well as shares our passion for giving back to the community."
"Our goal has always been to provide the Browns with the most comprehensive, world-class health care program in the NFL. We want to help them win championships," said Cliff Megerian, MD, CEO of UH and the Jane and Henry Meyer Chief Executive Officer Distinguished Chair. "But we are also partners in extending that care and support to our community. Our continued partnership is a win-win."
As team physicians, UH Drusinsky Sports Medicine Institute specialists have a highly integrated relationship with players and coaches to assist the team's athletic training staff on the sidelines during practices and games, both at FirstEnergy Stadium, home of the Cleveland Browns, and on the road. UH physicians also help provide care after playing while doctors execute scientific approaches to overall health, fitness, performance and injury prevention.
"We are thrilled to continue our relationship with the Browns. Our collaboration on groundbreaking medical approaches enhances the well-being of each player on and off the field," said James Voos, MD, head team physician for the Browns and the Jack and Mary Herrick Distinguished Chair in Orthopedics and Sports Medicine. "Developing and executing this level of care makes us better medical providers for all our patients, pee-wee to pro."
UH's holistic approach includes total care for health conditions such as cardiovascular issues, sleep and stress disorders, nutritional concerns and more, in coordination with team personnel. Browns Senior Vice President of Player Health & Development Joe Sheehan and Dr. Voos – who this past year was elected Vice President of the NFL Physicians Society (NFLPS) and will begin his term as President in 2024 – have spearheaded published research projects with the goal of advancing health and safety for all sports and levels of play, including via GPS tracking of on-field player metrics to maximize performance and minimize injury risk.
"While it is most visible to fans at FirstEnergy [Cleveland Browns] Stadium and the CrossCountry Mortgage Campus, our athletic training staff's and UH's devotion to player care extends much deeper than gamedays and practices," said Sheehan, who is entering his 15th season with the Browns. "With our shared dedication, we can help our players perform at their peak levels, mitigate injury risks and continue to identify cutting edge tools that can be implemented as best practices throughout the sports medicine community."
The Browns and UH are continuing their mission to improve participation and safety within youth and high school sports. When the partnership launch in 2014, the groups, as part of an NFL grant program, began funding full-time certified athletic trainers to care for all student athletes at Cleveland Metropolitan School District's James Ford Rhodes and John Hay High Schools, positions currently held by Anthony Connacher and Christine Novak, respectively. As part of today's announcement, the Browns and UH are donating $2,500 to each school's athletic department, adding to the more than $500,000 committed to the program since its inception.
UH is also an associate partner of the Browns HELMETS program, presented by Meijer, which awards Ohio area youth and high school football programs with $25,000 of new Xenith football helmets. Since 2017, the initiative has donated more than 3,100 five-star rated helmets to Northeast Ohio youth football organizations. To be eligible for HELMETS, programs must be enrolled in and complete USA Football's medically endorsed youth football certification course. UH covers the costs for the first 1,500 local organizations to receive the certification each year through the partnership.
Additionally, University Hospitals is a key contributor each summer to Cleveland Browns Youth Football Camps, which have recently been hosted at Cleveland Browns Stadium and Obetz Field near Columbus. Every October, the Browns and UH Seidman Cancer Center help raise awareness, encourage early detection and address risk reduction efforts across multiple types of cancers, in addition to breast cancer, through the NFL's "Crucial Catch: Intercept Cancer" campaign.
As the Official Health Care Partner of the Browns, UH medical staff offers care to Browns fans during all home games and events at FirstEnergy Stadium and open training camp practices at the CrossCountry Mortgage Campus. Throughout the year, UH also promotes its Healthy Fan initiative to encourage everyone to schedule regular check-ups and improve their overall well-being.
Throughout the COVID-19 pandemic, UH experts in epidemiology and other fields played in integral role in the Browns' planning and implementation of communal spread mitigation strategies and solutions at the CrossCountry Campus and Cleveland Browns Stadium, which ultimately led to approval by city and state officials to host 6,000 fans for the first two games and 12,000 fans for the remaining contests of the 2020 season.
All Browns games, in-season programming and year-round shows including Cleveland Browns Daily can be heard live on the University Hospitals Cleveland Browns Radio Network, which encompasses 26 affiliates plus three flagship stations (Good Karma Brands' 850 ESPN Cleveland; and Audacy's 92.3 The Fan and 98.5 WNCX).