UH Invests $531 Million to Address Health and Economic Disparities
October 09, 2023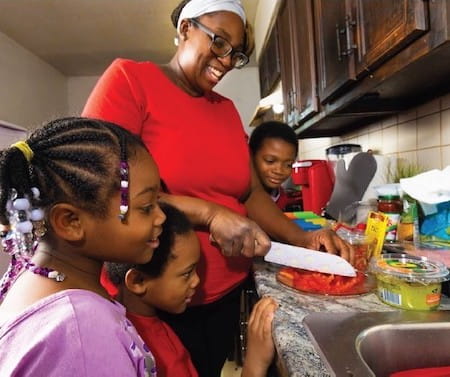 CLEVELAND–In its most recent Community Health Investment Report covering 2022, University Hospitals (UH) showcases recent examples of its continued effort to invest in the well-being and health of our community and to address health and economic disparities in Cleveland and Northeast Ohio. Since 2008, UH has invested nearly $5 billion in community benefit, and in 2022 alone, the health system's community benefit expenditures totaled $531 million.
"Responding to the considerable disparities in health care is not only ingrained in University Hospitals' DNA, but we know that addressing the root causes of inequities can significantly improve a community's quality of life," explained Cliff A. Megerian, MD, FACS, UH Chief Executive Officer, and Jane and Henry Meyer Chief Executive Officer Distinguished Chair. "We took action and made it a key aspect of our strategic plan and re-engineered the way we approach community health investments, going beyond our regulatory imperative as a nonprofit. This allows us to have a more meaningful impact where needs are greatest and advances our focus on health equity."
According to Heidi Gartland, UH Chief Government & Community Relations Officer, the health system continues to build on its 157-year legacy by ensuring its investments align with UH's values and priority needs via Community Health Needs Assessments, and by leveraging its more than 32,000 caregivers to work as a team to make a larger health impact in the neighborhoods it serves.
"We designed our Community Health Investment & Engagement Strategy to address the needs of those we care for, employ, insure through our value based arrangements, and live with in our communities," Gartland said. "To ensure we maximize our potential for impact, we are focused on three priority areas: Maternal & Child Health, Well-being and Economic Opportunity."
"UH aims to measure its impact by establishing tangible community health and health equity goals, monitoring our adherence, and staying accountable for achievement," she added. "We also plan to utilize a business planning management structure that will apply consistent criteria for new community level programming across our system, while ensuring sufficient financial and leadership resources for optimization and growth."
UH follows Internal Revenue Service guidelines to determine allowable community benefit contribution. UH's community benefit spending includes Medicaid care, provided at a significant loss since the state pays UH well below the cost of that care ($285 million); physician and other clinical education and training for the next generation of caregivers ($103 million); medical research investments that far exceed the payments by government and philanthropy ($59 million); charity care to patients unable to pay their bills ($54 million); as well as community health and wellness programs and services in our neighborhoods ($30 million).
The largest component of our community benefit investment reflects UH's ever growing care we provide to those covered by a health care safety net for low income Ohioans, called Medicaid. Medicaid reimbursement, which is set by the state of Ohio, pays well below the cost of care provided to those enrolled in the Medicaid program. UH underwrote this loss, reflecting its commitment to community health for all patients, regardless of their insurance coverage.
UH has intentionally invested our community health investments in neighborhoods where coverage is primarily Medicaid and charity care. For example, UH Rainbow Babies & Children's Ahuja Center for Women & Children in the Cleveland neighborhood of Midtown; UH Otis Moss, Jr. Health Center in the Cleveland neighborhood of Fairfax; the new UH Community Wellness Centers in Glenville (a neighborhood in Cleveland); and future Bedford and Richmond Heights locations, are place-based investments UH made to bring about meaningful health and well-being improvements in the lives of the community members by not only offering health care, but engaging with them to offer the services needed most -- such as exercise classes, prevention classes, health screenings, digital and telehealth access, workforce development, food security, nutrition and diabetes education, and other social support programming.
In terms of education and training, UH strives to inspire people to pursue careers in health care. Approximately 1,200 physician residents and fellows, along with thousands of nurses and other caregivers, train at UH every year. As an anchor health care institution on the forefront of research, UH serves the community by engaging in and funding clinical research in conjunction with Case Western Reserve University School of Medicine and private-sector health companies.
In addition, UH provides outreach programs, such as no-cost health screenings and health care resources, in order to enhance community health improvement.
Some of the key efforts highlighted in UH's 2022 Community Health Investment Report, include:


Maternal & Child Health

-- Encouraging breastfeeding acceptance for babies' health:

Breastfeeding is a powerful tool in raising a healthy and happy child. It helps build an infant's immune system, lowers the risk of infant death, decreases the risk of developing conditions like obesity and asthma, and may even contribute to higher intelligence and faster development. Breastfeeding benefits parents by lowering certain health risks for the mother, helping to create a bond between baby and parents, encouraging cooperative parenting, and bringing the family closer together. According to the Centers for Disease Control and Prevention, far fewer mothers breastfeed in the U.S. than in other developed countries, and the rate among Black women is even lower – about 69

percent compared to about 85 percent of white women. The Breastfeeding Equity Project began last July at UH

Rainbow Babies & Children's Ahuja Center for Women & Children in Midtown to narrow this disparity, and improve maternal and infant health outcomes. Early results of the pilot project are impressive. Of the new mothers enrolled, 80 percent are now regularly breastfeeding.



Well-being

– UH Cutler Center for Men brings health support to urban neighborhoods:
More than 40 percent of all men don't go to the doctor, unless they are experiencing a major health issue, such as a heart attack or prostate symptoms. Unfortunately, that can often be too late. Black men have an even worse record when it comes to seeing a doctor. Randy A. Vince Jr., MD, MS, joined UH not just to be a cancer surgeon, but also to get men to visit a doctor – especially minority men. Dr. Vince is the inaugural Minority Men's Health Director for the UH Cutler Center for Men. The Center offers a full range of coordinated services, from preventive to specialty care, with an additional focus on minority men's health.
Economic Opportunity

-- New UH Future Nurse Academy boosts career readiness in the community:

UH's new Future Nurse Academy promotes career readiness and economic opportunity for Northeast Ohio high school students who are interested in a career in nursing. The two-week program includes visits to nursing schools, shadowing rotations at UH Ahuja and UH Cleveland medical centers, and hands-on experience learning different nursing skills, such as taking vital signs. Unlike many other summer programs, the UH Future Nurse Academy provides its students a stipend, making it more economically feasible for students who need to earn money for college or work to help support their family. A stunning 428 applicants from every corner of Northeast Ohio applied for the initial class of 25 available positions.
"It is an honor and part of our mission to work with our neighbors in our surrounding communities to address health care disparities in order to hold true to our values – service excellence, integrity, compassion, belonging and trust," said Dr. Megerian. "We strive to advance our mission -- To Heal. To Teach. To Discover. -- and work diligently to ensure it applies to all who live in the areas we serve."
View or download the complete 2022 Community Health Investment Report:
https://www.uhhospitals.org/about-uh/community-benefit
###
Media Contact: Ansley (Gogol) Kelm
(678) 313-6525