University Hospitals Reopens East Side Urgent Care Facility
October 09, 2023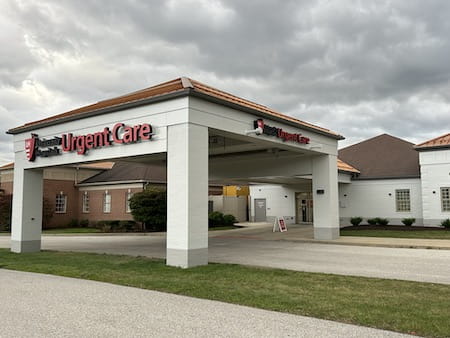 MADISON, Ohio – University Hospitals (UH) announced that the UH Urgent Care in Madison, located at 6270 N Ridge Rd, will reopen on October 9. The urgent care is on a highly traveled road that shares a building with adult and pediatric primary care practices, and will be open from 8 a.m. to 8 p.m. seven days a week, with special hours on some holidays.
This urgent care will increase convenient access to high-quality health care services for Madison and surrounding communities, and is part of the larger plan to deliver health care closer to where patients live, work and shop.
UH Chief Operating Officer Paul Hinchey, MD, MBA, looks forward to bringing urgent care services back into the community in a newly renovated space.
"The high emergency room volumes of the COVID-19 pandemic forced the temporary closure of the urgent care that was previously in Madison," Dr. Hinchey explained. "Being able to reopen this much-needed resource provides a more affordable option than emergency departments for patients in this area who need immediate, non-life-threating medical attention. Our UH Urgent Care delivery model aims to provide the most convenient and valuable care for our patients. By offering more urgent care locations, we can relieve the burden on emergency departments and reduce wait times so our emergency medicine teams can focus on critical cases."
The new facility will be equipped with advanced medical technology and staffed by experienced health care professionals dedicated to providing compassionate, efficient, and personalized care to patients of all ages.
UH Urgent Care President Lee Resnick, MD, looks forward to the expansion.
"Our primary goal is to reimagine urgent care for Northeast Ohio by removing obstacles and easing access to care while delivering exceptional patient experiences," Dr. Resnick said. "The expansion of UH Urgent Care in Northeast Ohio is a significant step towards fulfilling this commitment. By increasing access to urgent care services, we aim to make a positive impact on the lives of individuals and families throughout the region, providing them with the prompt and effective care they deserve in retail locations where they live, shop and work."
UH Urgent Care is being operated as part of a joint venture with WellStreet Urgent Care. To support our expansion, UH Urgent Care will be bringing hundreds more health care jobs to the Northeast Ohio market. We are currently seeking experienced physicians, nurse practitioners, physician assistants, and other medical professionals looking for consistent, meaningful work, to join the team. For more information about career opportunities with University Hospitals Urgent Care, visit https://www.wellstreet.com/careers-university-hospitals/.


University Hospitals is dedicated to improving health care accessibility and meeting the evolving needs of the Northeast Ohio community. The expansion of UH Urgent Care locations will contribute to this mission, ensuring residents have easy access to high-quality care when and where they need it.
###
Media Contact:
Ansley (Gogol) Kelm
(678) 313-6525