Cleveland Clinic, University Hospitals Deliver Thanksgiving Meals to Neighbors in Need
November 17, 2023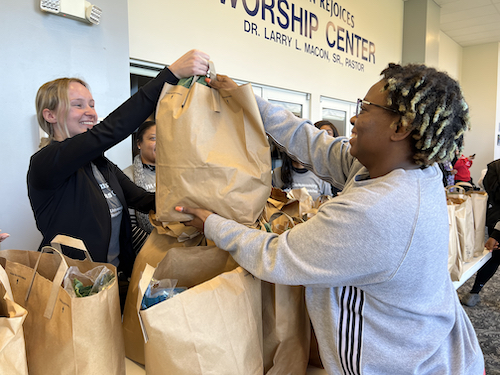 CLEVELAND -- The holidays are a difficult time for many families. For those facing economic hardship, the burden of food insecurity makes this season especially stressful.
In the spirit of giving and unity, Cleveland Clinic and University Hospitals have joined other community partners to fill that void. Through events at multiple sites, more than 3,700 families received nourishing Thanksgiving dinners. By providing these meals, hundreds of families can concentrate on celebrating the holiday together instead of worrying about what to eat.
"The collaborative partnership between Cleveland Clinic and University Hospitals has made a positive impact in our community, including most recently through combatting the opioid epidemic and supporting economic opportunity through a joint program to mentor and coach minority-owned small businesses," said Monica Yepes-Rios, M.D., medical director of Community Healthy Equity at Cleveland Clinic. "This joint Thanksgiving food distribution is just another example of how our two organizations can improve the health and lives of people in Northeast Ohio by working together."
Cleveland Clinic, Coca-Cola, Meijer and Morrison Healthcare came together to donate meals to neighbors in Akron, East Cleveland and communities in Fairfax, Glenville, Hough and Ohio City. Each turkey dinner included mashed potatoes, gravy, green beans, a roll and apple pie.
Volunteers prepared and distributed meals in partnership with the Akron Metropolitan Housing Authority, Cuyahoga Metropolitan Housing Authority, East Mount Zion Baptist Church, Fairfax Renaissance Development Corporation, Famicos Foundation, The City Mission, YMCA of Greater Cleveland and Y-Haven
"When we have an opportunity to give back to our neighbors, we answer the call," said Dr. Yepes-Rios. "Addressing food insecurity in the communities we serve remains a top priority. We are grateful for the continued support of our community partners to provide Thanksgiving meals to families in need."
University Hospitals' caregiver volunteers distributed food to families at multiple sites, including the UH Community Wellness Center in Glenville.
"Through a comprehensive approach to health and wellness, UH's Community Wellness Centers offer support resources and education to underserved communities adversely impacted by diseases, health disparities, and socioeconomic barriers to optimal health," said Celina Cunanan, Chief Diversity, Equity & Belonging Officer at UH. "UH is dedicated to bringing resources into the communities we serve, and we know that our neighbors in need will have a Thanksgiving meal to eat together because of these efforts."
Residents in the Glenville and Bedford communities received food items at the UH Glenville Wellness Center and Mt. Zion Oakwood Village Church. In collaboration with Rid-All Green Partnership, an urban farm in Cleveland dedicated to growing food, creating jobs, and building healthy, green neighborhoods, UH provided fresh produce including collard greens, yams, and peppers. Giant Eagle donated non-perishable food items. Each family also received a $20 gift card to Giant Eagle. In Richmond Heights, UH provided turkeys to residents by partnering with the city during its monthly drive-through food pantry.