New pediatric cardiac intensive care unit opens at UH Rainbow Babies & Children's Hospital
November 06, 2023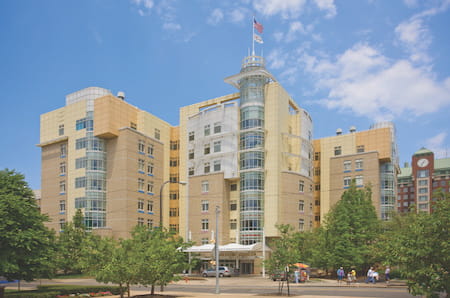 Cleveland, Ohio – Babies, children and young adults with heart conditions will have a new and specialized location to receive treatment and care. The Pediatric Cardiac Intensive Care Unit (PCICU) at University Hospitals Rainbow Babies & Children's Hospital (UH Rainbow) will open to patients and families later this month. An open house and ribbon cutting ceremony will take place on Thursday, Nov. 9, at noon.
The new state-of-the-art PCICU at UH Rainbow has 12 beds and was designed with patients and families in mind. The unit features spacious rooms, plenty of windows to allow for natural light, and child- and family-friendly décor. The PCICU joins the 10-bed cardiac step-down unit, and hybrid cardiac catheterization and surgical suites within the Congenital Heart Collaborative at UH Rainbow.
"We are proud to offer our heart families access to this beautiful new space for healing with the latest in cardiac imaging and one of the most experienced, compassionate, and talented heart teams in Ohio," says Ira Cheifetz, MD, FCCM, FAARC, Chief of Cardiac Critical Care and Medical Director, PCICU at UH Rainbow.
Nearly one percent of babies born in the United States each year will have a heart defect. Congenital Heart Defects (CHDs) are the most common type of birth defect. To meet this growing community need, UH Rainbow and Nationwide Children's Hospital came together eight years ago to form The Congenital Heart Collaborative, an innovative model of care for patients with CHD from before birth through adulthood.
This unique collaboration provides families access to one of the most extensive and experienced heart teams– recognized by US News & World Report as the #27-tie (Rainbow) and #5 (Nationwide) for cardiology & heart surgery. In addition, The Congenital Heart Collaborative is the only heart center in Ohio offering a dedicated fetal cardiac intervention program, a cardiac neurodevelopment program and a fully-accredited adult congenital heart program.
"The Congenital Heart Collaborative has strengthened pediatric cardiology and cardiothoracic surgery programs in Cleveland and Columbus through meaningful clinical integration and optimal patient-and family-centered care," says Patti DePompei, RN, MSN, President, UH Rainbow and UH MacDonald Women's Hospital. "The new pediatric cardiac intensive care unit is part of our combined effort to continuously improve to meet the changing needs of our patients and offer the highest quality, lifelong heart care."
###