UH Parma Medical Center Awarded Fall 2023 'A' Hospital Safety Grade from Leapfrog Group
November 06, 2023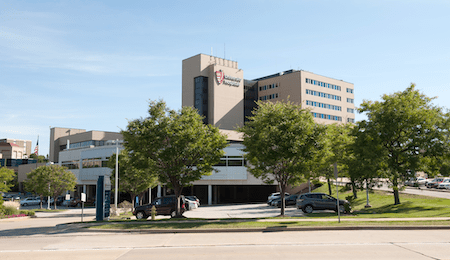 PARMA, Ohio
– University Hospitals Parma Medical Center received an "A"
Hospital Safety Grade
from The Leapfrog Group, a national nonprofit upholding the standard of patient safety in hospitals and ambulatory surgery centers. This national distinction celebrates UH Parma Medical Center's achievements in prioritizing patient safety by protecting patients from preventable harm and errors. This marks the second 'A' rating UH Parma Medical Center has received this year (spring 2023, fall 2023).
"Safety is at the forefront of our health systems, caregivers, and patients across the board. Therefore, it's important that we embrace a culture of safety within our medical centers," said James Hill, MD, Chief Operating Officer of UH Parma Medical Center. "UH Parma remains steadfast in providing support and ensuring the utmost safety for our patients. We are proud to have received an 'A' hospital safety rating from the Leapfrog Group for our continued efforts."
Leapfrog's publicly available hospital grades are an important tool that empowers patients, D Hill added. UH Parma closely monitors quality measures like hospital-acquired infections and readmission rates. All caregivers, including nurses and physicians, are encouraged to actively advocate for their patients, which leads to a culture of shared responsibility and accountability.
The Leapfrog Group, an independent national watchdog organization, assigns an "A," "B," "C," "D" or "F" grade to general hospitals across the country based on over 30 national performance measures reflecting errors, accidents, injuries and infections, as well as systems hospitals have in place to prevent harm. Leapfrog evaluated more than 2,800 hospitals in fall 2023, with only 30% receiving an 'A' rating.
The Leapfrog Hospital Safety Grade is the only hospital ratings program based exclusively on hospital prevention of medical errors, infections and injuries that kill more than 500 patients a day nationally. The grading system is peer-reviewed, fully transparent and free to the public. Grades are updated twice annually, in the fall and spring.
"Earning an 'A' Grade means University Hospitals Parma Medical Center made a true commitment to put patients first," said Leah Binder, president and CEO of The Leapfrog Group. "We congratulate the leadership, Board, clinicians, staff and volunteers that all had a role to play in this achievement."
To see UH Parma Medical Center's full grade details and to access patient tips for staying safe in the hospital, visit HospitalSafetyGrade.org and follow The Leapfrog Group on Twitter, Facebook and via its newsletter. ###