UH Receives $20 Million Gift to Launch Haslam Sports Innovation Center
November 14, 2023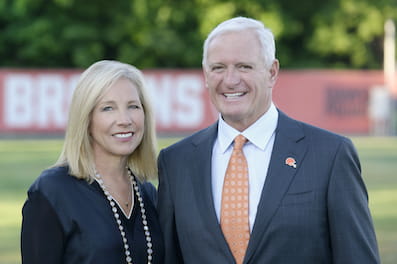 CLEVELAND, OH – A visionary $20 million gift from Dee and Jimmy Haslam will establish the new University Hospitals Haslam Sports Innovation Center led by James E. Voos, MD, Chair, UH Department of Orthopedic Surgery, President-elect of the NFL Physician's Society and Head Team Physician, Cleveland Browns. The new center will strategically identify, support and invest in the world's best innovations in sports medicine, providing a catalyst to improve performance, reduce injury risk and promote healing for stronger, healthier professional and recreational athletes.
"Dee and Jimmy Haslam are dedicated to creating impactful change within professional sports and in their communities. We are fortunate to have them as partners as we embark on an unprecedented phase of sports medicine innovation and development," said Dr. Voos, Executive Director, UH Haslam Sports Innovation Center. "The Haslam Center was created to revolutionize medicine for athletes in professional sports and of all ages and abilities. It will propel technology forward to enhance the health and safety for patients everywhere."

The UH Haslam Center's collaborative approach, along with the Haslams' deep industry relationships and experience as investors in the NFL's Cleveland Browns, the NBA's Milwaukee Bucks and the MLS's Columbus Crew, will accelerate progress and bring exposure to new technologies and research that will lead to success in sports across the country.
"The health and well-being of our athletes and our communities is of the utmost importance to us. We are inspired by Dr. Voos and the team he has assembled - his incredible drive and vision to continually innovate, searching for cutting-edge opportunities, while providing world-class care," said Dee and Jimmy Haslam. "We know the unique opportunity we have to invest in sports medicine, creating new technologies and innovations to improve performance and contribute to the future of sport, while creating healthier athletes and communities. It is a privilege to partner with Dr. Voos and UH in this exciting next chapter."
Dr. Voos's innovative research includes creating a return to play assessment after ACL reconstruction using wearable technology. He has led the way in regenerative medicine; University Hospitals Drusinsky Sports Medicine Institute is one of the few U.S. institutions to obtain FDA approval to multiply and grow stem cells for arthritis treatment.
Dr. Voos and strategic partners have participated in research and developed innovations including Collamedix which is focused on the development of collagen scaffolds to improve orthopedic procedures such as rotator cuff repair, ACL reconstruction, and Tommy John elbow surgery. Another company is Lazurite which designs medtech devices, and its ArthroFree® System is the first wireless surgical camera with FDA clearance for use in broad endoscopic applications including arthroscopy.
"This transformational investment builds on Dee and Jimmy Haslam's commitment to the overall health of athletes and to the Northeast Ohio community and puts a national spotlight on the groundbreaking work of Dr. James Voos," explained Cliff A. Megerian, MD, FACS, University Hospitals CEO, and Jane and Henry Meyer Chief Executive Officer Distinguished Chair.
"In so many ways, Dee and Jimmy are champions for Cleveland, the families and schools of this community and athletes around the world," said John G. Morikis, Chairman, UH Board of Directors and Chairman and CEO, Sherwin-Williams Co. "Their giving and passion will impact generations to come."
Media Contact:
Macie Jepson